Data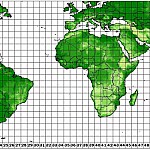 Space Shuttle Topographic Mission (SRTM)
Worldwide elevation data at 90 meter resolution.
full NASA SRTM mirror: SRTM v4.1 90m

The lastest SRTM version 4.1 has holes filled from auxiliary DEMs.
It is the SRTM dataset with the highest interpolation quality currently available.
It is 18GB of compressed world-wide data.

Mission was conducted in Feb 2000.
Original data available from NASA/CGIAR-CSI
SRTM data is courtesy of NASA Jet Propulsion Laboratory
For more info see the SRTM specs.
Example SRTM data of Germany (contoured with libGrid at 100m spacing):